Bra size guide
How to find your bra size
Your back band size
With a tape measure, measure around your rib cage just beneath your bust. Wear only your bra whilst you're doing it and try not to breathe in. Keep the tape measure straight and keep it quite tight to your body – why not ask a close friend to help you?
Now find your back band size using this chart: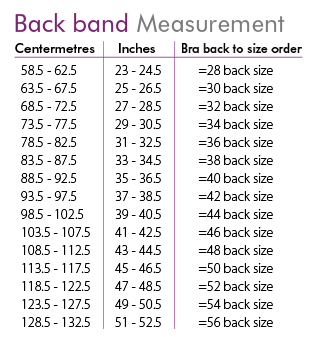 Your cup size
Because women's busts are all different shapes as well as different sizes, taking a measurement around your bust isn't always the most reliable method of finding your cup size.
We recommend the following method:
See how many back band sizes you have changed compared to your best fitting bra that you currently wear (a new one that hasn't been washed out and stretched out!). You need to go up a cup size for every back band that you have gone down and vice versa. So if you used to wear a 40C but have measured a 36 in the back, try a 36DD. This doesn't mean your boobs have grown huge! It's because of that fact that cup size is actually dependant on back size, i.e. the cup on a 42D will be much bigger than the cup on a 32D.